About AANV
About the Art Association Napa Valley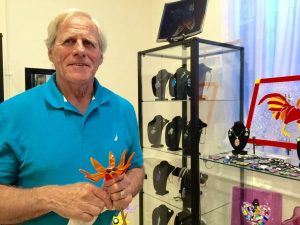 The Art Association Napa Valley is a private, nonprofit arts organization dedicated to improving the quality of life for the Napa Valley by supporting arts and culture throughout the county. We provide funding, advocacy, marketing and exhibition opportunities for local artists. A large portion of member dues and a percentage of art sold contributes annually to the AANV Scholarship Fund, which benefits local high school and college students who wish to pursue artistic careers.
Exhibition opportunities for members include rotating shows at local banks and businesses, and a co-operative gallery, Art Gallery Napa Valley, located at 1307 First Street on the west side of downtown Napa. Classes and workshops are held at the Art Center Napa Valley on Behrens Street. AANV also sponsors and runs the Open Studios Napa Valley Program. This annual program is held the last two weekends of September, where participating/juried artists open their studios and work areas for general public tours. For more information and a catalog/map for the 2020 event, go to openstudiosnapavalley.org.
The association is also active in the Napa Valley community through its young artist scholarship program and the local library's "Artist of the Month" shows, plus other shows and competitions.
General Membership Meetings are held at the Art Center, at 1520 Behrens Street, Napa, CA 94559, on the fourth Monday of each month in January, February, March, April, May, June, September, October, and November. Meeting times are from 1:00 p.m. to 3:00 p.m. and include professional artist presentations and demonstrations, and exhibitions of member works.